Edward Sanderson of Watertown, Massachusetts

Immigrant pioneer ancestor of many Sanderson families and their descendants
By Kevin Sanderson
Farmington Hills, Michigan USA

Edward Sanderson, was a farmer/proprietor and early settler of Watertown, Massachusetts. I'm a descendant of his by way of Sanderson family members from Massachusetts, Vermont, Ohio, Indiana to Michigan

.

Edward

was the younger brother of silversmith/goldsmith Robert Sanderson. They emigrated to the Massachusetts Bay Colony, from England. Robert eventually ended up in Boston and together with his friend John Hull, started the first mint in the Bay Colony. There is more information on Robert Sanderson because of his years in Boston as a Deacon besides being a noted silversmith and working at the mint.

I seriously question many of the assumptions and so called "facts" many researchers, respected and otherwise, have spouted about the Sandersons for years. We now have access to many records earlier researchers did not have access to. Also, many researchers did not have a vested interest in making sure things were worked out properly when trying to make sense of what they were finding, and that applies today to people like Robert Charles Anderson, though he freely admits there could be errors in his work. This also applies to Dr. Henry Bond's otherwise respected work, and I'm not the only researcher/historian who feels that way about Dr. Bond and his errors and omissions, some which are glaring. Thus we get some pretty screwy ideas and wrong information, especially about Edward Sanderson, that don't hold up. We also have to deal with the confusion about Sanders versus Sanderson and when to know who they are talking about and what really makes sense based on knowledge of the times they lived in, which many researchers neglect. Some researchers are very lazy, parroting the old mistakes and erroneous theories, and others would make terrible detectives, ignoring the obvious. There is much misinformation on ancestry.com! Tread carefully there, as I've learned one of the more notorious fictions sprouted among members there.

Based on research I have been doing, it's most likely Robert and Edward came originally from Higham Ferrers in Northamptonshire, England, not East Anglia (Norwich, Norfolk area) as many of the early settlers did. Many researchers wrongly assume the same origination for the Sanderson brothers (I explain how I came to this conclusion, as others have, below). Later emigrants left other parts of England, compared to the first settlers through 1635 who mostly came from East Anglia, according to Dr. Roger Thompson who has studied the migration for many years and wrote about it in his highly regarded book on Watertown then, Divided We Stand. Read that book to get a better understanding of the culture in Watertown then, and do research elsewhere on things such as the marriage customs of the British and not just for the people from East Anglia. Contrary to what others claim, when you read about Edward Sanders in that book keep in mind that Thompson was not writing about Edward Sanderson and he has said so.

Robert Sanderson of Hampton, Watertown and Boston
No passenger lists with Edward and Robert's names have been turned up yet, and they did not come over on the ship Increase in 1635 as you will often see on the Internet - they are not on its passenger list. But due to records of Robert Sanderson arriving in New Hampshire and a supposed Robert Sanderson descendant's family records given to Rev. H. I. Longden of Northamptonshire for a pedigree search, Robert came over in 1638, and it is assumed to be as correct as can be determined at this time. It's doubtful the brothers came to North America any sooner as Robert was married to his first wife Lydia while still in England in 1636. Their first daughter, also named Lydia, was born in 1637 in England. They had a second daughter named Mary in New Hampshire in October of 1639. It's doubtful Robert and Lydia came over while she was pregnant so 1638 makes more sense for their arrival on this side of the Atlantic, besides Hampton wasn't settled until 1638. Not long after he arrived in New Hampshire, Robert became a freeman in 1639, and was granted 80 acres of land on December 24, 1639 according to Joseph Dow on page 80 in his History of the Town of Hampton, New Hampshire: From Its Settlement in 1638, to the Autumn of 1892, Volume 1. It's always been assumed he had some money since he had been a goldsmith and silversmith in London and perhaps that helped him gain admission as the settlers at the time were very picky about who could live there. Robert's first wife, Lydia, died in New Hampshire, the date is not in the Hampton records but her grave is there. The supposed family records I've mentioned say Lydia died about 1641. Robert later married the widow Mary Cross and had more children after they moved to Watertown, Massachusetts - Joseph in 1642/3, John in 1644, Anna in 1647, Benjamin in 1649, Sarah in 1651 and Robert in 1652 (a daughter named Abigail has no birth recorded - she was mentioned in a later marriage contract/deed between Robert and Elizabeth Kingsmill arranging for Abigail's care). You will often find a Mary Cross listed as a daughter and she was Mary's daughter from her previous marriage to John Cross. Their daughter Mary was born after John Cross passed. Robert moved his family to neighboring Boston in 1653 where he lived until his death. He married the widow Elizabeth Kingsmill of Boston after Mary died. More on Elizabeth and that interesting part of the story on Jeff Hause's website. (Jeff is descended from William Sanderson - possibly a distant cousin of the brothers - more below.)

It is assumed by many researchers that Edward came over with Robert in 1638 (he is not mentioned in Dow's two volumes on Hampton, but since he was Robert's younger brother, he could have been included with Lydia), though he could have come over later. Also keep in mind Edward Sanderson married Mary Eggleston in Watertown on October 16, 1645, so he had to have been in Massachusetts before the marriage.

Why do I say they are from Higham Ferrers in Northamptonshire? Robert Sanderson said he was the son "of Saundersonne of Higham" when he registered as Robert Sanderson at the Goldsmith's Guild in London October 17, 1623. Higham Ferrers to this day is referred to by the locals as just Higham and it's the location of one of the few families in England at the time using the rare spelling of Saundersonne for a short time. It is the only Higham with a Sanderson/Saunderson population in England in that time period that I have been able to find. Northamptonshire with Little Addington, Higham Ferrers, Rushden and Wadenhoe had Sanderson families living there for hundreds of years. One of the buildings of old Sanderson Manor in Little Addington exists to this day - the Manor Farmhouse - someone put a swimming pool behind it! Yorkshire, well to the north, was the only other region to then have a concentrated population of Sanderson family members. Higham Ferrers is only 80 miles from London by freeway today. Read The Saunderson Family of Little Addington.

I believe from my research, including checking the copies of the scratch Sanderson pedigrees of respected Northamptonshire antiquarian and genealogist Rev. Henry Isham Longden that I purchased from the Northamptonshire Records Office, that Edward Sanderson was born in 1611, the son of Edward Saundersonne of Higham Ferrers. Rushden Research has him listed as Edmond, baptized May 5, 1611, but Rev. Longden, who was the person who gathered together and cataloged all the Northamptonshire records in the late 1800s, and had complete access to them, copied Edward down from the original records while doing two different Sanderson pedigrees many years ago. Edward could look like Edmond in the stylized handwriting of the period (that is a strong possibility if, like me, you've ever tried to make out the cursive handwriting of the 1600s). Longden had done many pedigrees over the years and looked at many wills, so he was no stranger to the old fancy handwriting. There's also a long line of people named Edward and Robert generation after generation on that side of the family. The two different pedigrees were separated by a few years as evidenced by the shakier handwriting of an older person on the second pedigree (it also had some resorted thinking on the families - all the same names used over and over from the sparse older records could throw anyone off). I believe Robert was the eldest son in the Saundersonne family but the records of his birth and Edward and Robert's father's marriage are on the 2 pages covering almost 4 years that are missing, from after early1607 to early 1611. Robert is usually noted as being born around 1608. I will go into more on that research later.
Robert Sanderson and Edward Sanderson Were Brothers
There have been some who say there is no proof that Edward and Robert were brothers, ignoring Robert's will written in 1693 and many older Sanderson family pedigrees (there's an older Sanderson family tree mentioned in this article about David Sanderson's ancestors mentioning Robert and Edward were brothers). Many researchers are lazy and just quote Dr. Bond who couldn't find an affinity for the brothers, though he had information pointing to that which he published right under his nose. Judge James Savage knew they were brothers and quoted Robert's will. Other older researchers also knew this. Some people think Edward died well before Robert and that stops them from believing, but where they get that proof of death dates from actual records is not something I've turned up in Watertown's published records, and further inquiries of record holders in the Watertown of today. There is evidence that Edward lived well past many of the accepted dates and I write about that below. And apparently nobody ever told Robert if Edward had passed earlier, which would be very unlikely, in my opinion, as Watertown and Boston are not that far apart. In fact, what became the Belmont area of eastern Watertown provided fruits and vegetables for Boston along with ice from the Fresh Pond later in the 1800s.

Robert Sanderson did name his brother Edward Sanderson in his will of 1693, excellent proof right there, and you can see part of it for yourself below.

Let's start with the main proof of Edward and Robert Sanderson's relationship as brothers, which some amazingly deny (I don't get how some can ignore such obvious proof). Here is part of Robert Sanderson's handwritten will from the Edward Sanderson 1614 - 1992 Archives. Used with permission. Edward is mentioned on the second page in the bottom half. Robert kept the possibility open in his will that Edward might be dead by the time of his death saying "if then living" and gave him 3 pounds for the purchase of a cow. It's on page 2 of the will below. 3 pounds then is worth about $600US today. Cows were not cheap! Many people are recorded to have mortgaged their properties to get a cow or two. Many of the settlers raised livestock.


Other long standing reports on the will on pages not here, that I haven't seen yet in the original handwritten version, say that Robert also gave Edward some of his clothes.
Dr. Henry Bond noted Edward Sanderson in a will of John Flagg of western Watertown from 1696. So Edward was possibly still alive even then.
There is no official record of Edward Sanderson or Mary Eggleston Sanderson dying in Watertown Vital Records (which is why some researchers thought they moved back to England), and no proof of where other researchers got their death dates, or for many years their birth/baptism dates. They could have lived a long time as their son Jonathan lived until he was 89, and genetics can be factored into longevity. Robert Sanderson was around 85 when he passed.

It's possible they were buried in the Old Burying Ground in Watertown as most from their generation were, but where has not been determined as no records can be found of their burial by the Watertown DPW and the Watertown Historical Society has not found them yet, but that doesn't mean they aren't there as many graves are no longer marked and there are no records for some of those burials. The Sandersons later on were said to have erected a tomb, one of several different families' tombs by the gate at Arlington Street, but apparently no Sanderson family members used it and it eventually passed into the possession of Abijah Stone. Perhaps Edward and Mary are buried nearby with stones no longer readable (see page 64 for information on the Sanderson family tomb, Epitaphs from the Old Burying Ground in Watertown - Abijah Stone was alive in the mid-1700s to early-1800s, was a Private in the Revolutionary War and married in Watertown in 1782 - he was noted receiving a pension for his service at age 81 in 1833 - Massachusetts Pension Roll, page 203). When genealogists started going through recording the epitaphs in the mid-1800s, the cemetery was reportedly in bad shape and many grave stones could no longer be read. Slate stones survived the best. Granite did not. Most wooden markers were long gone. Most of the Sandersons from Deacon Jonathan and Abiah on were buried in Waltham (at a cemetery that was not around until 1703), or where family members had moved. Since the Sanderson tomb was built by the descendants from western Watertown/Waltham, that would only make sense to me to build it there in eastern Watertown because Edward and Mary were buried there, otherwise I would think they would have built it in Waltham since they are all descended from Deacon Jonathan and Abiah anyway and they are buried there. But some people have thought Cambridge is a possibility as well, since Jonathan and Abiah lived there many years, unfortunately no graves for Edward and Mary have been found - many grave markers missing there as well from that era. The graves in the Farmer's Burial Ground in Weston are dated from well after Edward and Mary's time, too.


Some people think Edward Sanderson of Watertown was poor later in life, partially from the confusion with a poor man and convicted criminal named Edward Sanders who a clerk had written in as Sanderson when the town was dealing in 1671 with what to do with two younger daughters, who were much too young to be Mary's children (Dr. Thompson went with it being Edward Sanders, not Edward Sanderson, more on that below). Earlier in the records - possibly a different clerk writing down details - Edward Sanders was the man with 6 children in need of the town's help in 1661. Children many of whom are often wrongly attributed to Edward Sanderson and Mary Eggleston Sanderson. Mary and Edward officially only had one child, Jonathan, born 1646 in the Watertown Vital Records. There are no others recorded, the town records are continuous, and the other children all have last names of Sanders or Saunders and are only found in church records. Since Robert and William Sanderson officially recorded their children born in Watertown, there is no logical reason to me why Edward and Mary wouldn't continue having more children recorded officially if they had any that survived. Because of this early confusion with Edward Sanders and all his children, many people have thought Edward Sanderson had a larger family than he actually did. The Selectmen would have been after Robert Sanderson to help if Edward Sanders had indeed been his brother Edward Sanderson. But that wasn't the case. More on that later in a separate section below - Edward Sanderson versus Edward Sanders.

However, this confusion with Edward Sanders, who was a different individual, has caused some confusing issues for what should be a rather simple family history. There is bad information that will possibly last forever on the Internet. Hopefully some of what I have found will help researchers get to the real truth.

I don't think Edward Sanderson was poor from what I've been discovering, but if he was poor in his later years, as many were, it was probably because he was helping Jonathan acquire what amounted to 160 acres of land in western Watertown, mostly for family members. Edward Sanderson left no will that has been found yet (which is why some people think he died poor). Edward may have also died suddenly leaving no will (intestate), one of the reasons for people not having wills then as today (it could also be one reason why his son Jonathan wrote his own will several years before he died, maybe not wanting to repeat that, and having more heirs to care for). Many wills were written then when people were in failing health, as that is mentioned many times. And often, property was disposed of then by deed, many not formally recorded, so Edward could have disposed of his property that way. Jonathan gave his children land by deed. Dr. Roger Thompson said in his book on Watertown that some wealthy men left no cash at all as it was hoarded at the time "until rate and tax discounts for specie were introduced." Edward could have been one of them. It could also be why Robert didn't give him a little more money. Maybe he knew he didn't need it and thought a cow might be a nice parting present for a practical livestock farmer. I don't see all the imagined drama others think they see between the brothers.

The eldest son often inherited the estate if a wife was dead and Jonathan being the only child, he probably inherited everything that was left that he didn't already own. Note all the silver Jonathan had in his last will below. You have to ask where would a Deacon and farmer get all that silver. There was more silver distributed in that will compared to wealthy Robert Sanderson's will. Keep in mind, most of Jonathan's land was for family members and he had a large family. Those family members worked each of those farms for their own respective family.

You will often see the quoted fact that Sanderson was sometimes written as Sanders/Saunders. That is true. Clerical record keeping did have errors as today (even with computers now I've been a victim of Identity Confusion 2 times because of clerks tying me to another person with a similar name). But it doesn't completely apply as meaning it was always the same person as some people think. And Edward Sanderson was written Sanderson in the record of his marriage and the birth of Jonathan in the Watertown Vital Records and also in William Shattuck's will. There are only 3 places so far where I've seen it written as Edward Sanders specifically for Edward Sanderson, a deed mention of his woodlands, a mention of land of his in a will and one town meeting record (the sale of his land to William Shattuck, Sr.). I hate to be nit-picky, but some people like to say he was almost always called Sanders, but he wasn't. Saunderson is an acceptable alternate spelling from England during that time period and Robert and Elizabeth used it for Edward in his will, and is also used in other places for Robert as well, though Robert himself seemed to always use Sanderson without the "u" in the records I've seen, including the birth of his children in Watertown. Keep in mind that many people could not write. There are many instances of people putting their mark next to their name that a clerk filled in for them. It's obvious on many deeds I've been looking at from Watertown. Jonathan Sanderson signed a deposition just with his mark. He couldn't write his name apparently. Robert Sanderson's son Robert Jr. signed with his mark when he sold his father's original homestall in 1713. So no wonder the names were often recorded wrong. If people couldn't write and probably couldn't read, they wouldn't know if a hard of hearing clerk put their name down wrong. Also, you're dealing with a similar sounding name. For many years I've been called Sanders by people not hearing the "on" part of the name. Since I've been in radio for many years here in Detroit, I've often been confused with a local club DJ and producer named Kevin Saunderson who came on the scene in the 1980s with some success working with singer Samantha Fox and then getting involved in the electronic/dance music scene. If you knew both of us, you'd easily see we are two completely different people.





Edward Sanderson and Mary Eggleston's marriage record - old Julian calendar date -
from the handwritten original Watertown Vital Records (Eggleston is spelled Egellston)


Mary Eggleston - Mary Egellston of Watertown, Massachusetts

Dr. Rosemarie Eggleston, who personally checked the original records there in England when working with Linda Eggleston McBroom on a book about Bygod Eggleston, is quoted as saying Mary Eggleston (recorded as Mary Egellston in the Watertown Vital Records on her marriage to Edward Sanderson in 1645) was baptized on February 4, 1613 at St. Margaret's Church, Norwich, England. Other "popular" dates are January 6 and January 19, 1613 that have been floating around for years from other researchers. According to the passenger list some accept for the journey of her father Bygod Eggleston, she did not come over with his sons in 1630. But there are two passenger lists for the voyage of the ship Mary & John, and it is said there is no official list according to some sources (for more info check out "Search for the Passengers of the Mary & John 1630" Vols. 1 - 26, printed by The Mary & John Clearing House that can be found in many library genealogy collections). If she didn't come over with Bygod and his sons (and nobody has written of her in the early stories of Bygod and his sons in this country), she may have done what Bygod did early on and worked as a servant. She may have come over later with another family. Judge James Savage looked for any other Eggleston families in the Bay Colony and could only find Bygod's family. Bygod Eggleston was among the founders of Dorchester, Massachusetts, in 1630 and of Windsor, Connecticut, in 1635. There are those who assume Mary lived in Dorchester, but there are no records that I have found yet. There was an Iggleden family (a variation of Eggleston) that came over in that time period to Boston, but their daughter Mary died in England. The Mary Eggleston recorded as buried in Norwich in 1634 was a cousin of Mary's. There is no death record for our Mary Eggleston in England.

Charles Robert Anderson did a good job gathering records together in his Migration Series, but as he admits there may be errors and I believe he made some regarding Mary, or just did not think through the possibilities. He felt she was not Bygod's daughter. Sorry, but he's the only available choice of a father if she came from Norwich. The Eggleston women writing the book on Bygod did not find other alternates. And he recommends their book!

He had a problem with her marrying at "30" (he got the age wrong, it was 32), she or any of her children were not mentioned in Bygod's will (remember, there was only Jonathan officially), and there was no connection between Bygod and Watertown, along with other reasons he did not detail.

Since there is no record that has turned up of her being here before marrying Edward, she may have been in England all that time from 1630, when Bygod and his sons left England, until the early 1640s, where she would have had limited opportunities to marry due to class divisions, especially if she was a servant. She would probably escape the normal treatment in the colonies of a woman who hadn't been married by age 30 and instead, I would think people would go easier on her knowing where she came from and the class warfare they had escaped. Getting married at 32 wouldn't be unheard of for someone in her situation.

And the Sanderson family members tended to get married later, some never marrying at all in Northamptonshire. So Edward getting married at 34 wouldn't be that big a deal. Robert was around 28 when he married Lydia and he had more opportunity to meet someone in his position and living in London instead of Higham Ferrers.

She also could have had a falling out with Bygod (he was not that nice of a guy, trying to sell or bequeath a wife which he got in trouble over and was fined) or was not able to get in touch with him, or didn't know where he was. She also could have died before Bygod and that would also explain her "missing" from his will. Some of the town clerks were not the greatest in Watertown and errors and omissions were common later on past 1660 or so as other researchers have found. There is a Mary in the will, but many often say that's Bygod's younger daughter born in Connecticut May 29, 1641 - but she was recorded as Mercy or Marcy and called Mary according to some. The assumption is that Bygod included the younger daughter, not the older daughter Mary, in the will (what's often crazy is some people have the younger girl marrying Edward at age 4! And then they have Edward dead soon after the marriage so she could marry John Denslow in 1655! Researchers, please check your years!! Mercy/Marcy Eggleston did marry John Denslow June 7, 1655 in Windsor, Hartford, Connecticut, where she was born and lived).

Bygod's will (his name's spelling changed over the years, probably due to people not being comfortable with his name - it's Begat on the cemetery marker):

"I Bigat Egllstone of Windsor, in ye county of Hartford, being aged and weake, doe make this my last will and testament as followeth; I comit my sould in the hands of God, and my body to be buried in seemly manner by my friends. My Estate, which is but Small, this is my will; My house and land after my decease I give to my son Benjamin, he being the staff of my age, on this condition, that he shall maintaine his Mother during her life and pay my Debts. And in case yt my son Joseph should come and demand a portion, his brother shall pay him forty shillings as he is able with conveniency. Also to my son James and my son Samuel & my son Thomas, AndDaughters Mary, Sarah & Abagail, to eyther of these three shillings apiece. All ye rest of my estate I give to my son Benjamin, and doo make him my exsequitor.

Begat Egleston

Witness; Nath.Sslyer
Abraham Randall, John Hosford."

Not much to give to anyone anyway! There would be less to go around if everyone was included, so he probably kept it to those nearby.

Since Bygod had made the journey with his sons and maybe didn't leave money for Mary to make the costly trip to North America (if she didn't come over with them), she may have had to wait for someone in the family to provide the means to come over, or if she was a servant, which I think is likely, she had to wait for the family she worked for to come over and then release her. It's interesting to note that Jonathan was a servant as well in his teen years (taken from a deposition you can find in The Sanderson Homes at Piety Corner, Waltham). Dr. Eggleston has speculated on the internet that Mary may have stayed behind because she was in love with someone. But that doesn't explain how she got over to this country. It's important to note that a single, young woman would not be coming over alone, or to live alone, in that time period. Coming over as a servant to another family may be what happened if she didn't come over with Bygod or another family.


Robert Sanderson and Edward Sanderson: Early lands in Watertown, Massachusetts

Robert got his first land in eastern Watertown through Mary Cross, the widow of John Cross. According to the Watertown Records he had two lots on Common Hill, also known as Pequusset Hill (Pequossette is the preferred spelling these days, but the older records have it with Dr. Bond's spelling or a variation - I'm using the spelling from Dr. Bond's map) and later Payson Hill, split by Hill Street, now called School Street in present day Belmont, Massachusetts.

You can find the location west of the Fresh Pond from the link to this map Dr. Bond put together based on the town property records in 1642:

http://freepages.genealogy.rootsweb.ancestry.com/~mainegenie/WatertownMap.jpg


His house was on the first homestall of 6 acres listed in the records and that was west of Hill Street. Dr. Bond said the land owner's house was on the first lot listed in the town records. The lot east of Hill Street was 4 acres of swamp land. There is no swamp there today, just a few blocks of nice homes, between Shaw Road and Livermore Road.
That land apparently had been drained as it was a meadow according to the deed when Robert Jr. sold it in1713.

Robert Sanderson also purchased more land on his own:


From a Linton family genealogy web page: "...on Dec. 6, 1646 Lawrence Waters testified that Richard Linton of Watertown granted unto Robert Sanderson of same for a valuable consideration his dwelling house and lot in Watertown in a deed dated September 1645. It was about that time that Richard Linton, Lawrence Waters, and John Ball, all three ancestors, moved to Nashaway Plantation, now Lancaster."

That property was 8 acres and is immediately south of Robert Sanderson's land on Dr. Bond's map. Interestingly, the purchase date was a month before Edward Sanderson and Mary Eggleston were married.
Perhaps it was meant as a place to stay for the newlyweds.


Below that land was William Godfrey's land and house, about 6 1/2 acres or so, which Robert purchased on September 3, 1653 according to the Deed index book, elsewhere noted on October 17, 1653.
In that deed, Robert's property bordered the north of Godfrey's property, so Robert still had ownership of the old Richard Linton property when he moved to Boston. "Massachusetts, Land Records, 1620-1986," images, FamilySearch (https://familysearch.org/pal:/MM9.3.1/TH-1961-36172-8487-85?cc=2106411&wc=M9QJ-LQR:1366736303 : accessed 15 Jan 2014), Middlesex > Deeds 1649-1670 vol 1-3 > image 107 of 645.

In his will, Robert gave 1/2 of his Watertown properties to his son Robert Jr. who with his wife Esther sold 11 acres, the original homestall east of Jonas Bond's property March 20, 1713 to Samuel Livermore, who owned most of the land around the original homestall, for 57 pounds. "Massachusetts, Land Records, 1620-1986," images, FamilySearch (https://familysearch.org/pal:/MM9.3.1/TH-1961-36174-2518-65?cc=2106411&wc=M9QJ-L7T:236529699 : accessed 15 Jan 2014), Middlesex > Deeds 1712-1714 vol 16 > image 268 of 679.

And "Massachusetts, Land Records, 1620-1986," images, FamilySearch (https://familysearch.org/pal:/MM9.3.1/TH-1961-36174-2280-92?cc=2106411&wc=M9QJ-L7T:236529699 : accessed 15 Jan 2014), Middlesex > Deeds 1712-1714 vol 16 > image 269 of 679.

The other half was split with others when Robert died and they had sold it with other property owners bordering the south of it, including Sam Livermore. That leaves about 3 or 4 acres unaccounted for on Common Hill as Robert had around 25 acres there, and Robert only mentions two of the three houses in his will on page 2, perhaps the third house is mentioned on page 3 which I have not seen yet, or maybe it burned down, or more likely was the house Edward Sanderson maybe came to own and sell to William Shattuck.



I'm wondering who took care of Robert's land after he left for Boston in 1653. It may have been Edward until he moved from eastern Watertown to western Watertown and the man who I believe to be a younger distant cousin of the brothers, born about 1630 in Higham Ferrers, named William Sanderson. He would have been old enough to take the oath in 1652 - you had to be at least 21. I also believe he was the man who married Sary and had several children in Watertown before moving to Groton. His son Joseph is mentioned in Robert's will. William Sanderson testified about the drowning death of Thomas Hastings' son and Hastings owned property just south of the land Robert had bought from William Godfrey. That puts William Sanderson at the Robert Sanderson "compound" as well, possibly later living on the land Robert bought from William Godfrey.

Edward Sanderson owned land. Edward took the oath of allegiance in Watertown in 1653, something you had to do to own land. He may have had his own money, or got help from Robert, or perhaps he drained the swamp land and bought that, but eventually Edward owned a homestall with a house, a barn and a meadow. Possibly it was the house and part of the land of Richard Linton he may have bought from Robert, or Robert gave to Edward and Mary as a wedding present. We do have 3 or 4 acres and a house missing from what was bought by Robert compared to what was divided up and sold by Robert Jr. Edward Sanderson sold his property to neighbor William Shattuck, Sr. in 1664, but a question having arisen as to his title to some parts of it, the town voted, December 27, 1664; that "William Shattuck shall enjoy the land he bought of Sanders; provided he pay to Sanders twenty bushels of good merchantable Indian corn to spend in his house." William Shattuck mentioned the house and land he had bought from Edward Sanderson in his will (and using Edward's full name, not the too often clerical error of just Sanders as we just saw):

From William Shattuck, Sr.'s will dated August 3rd, 1672 - taken from Lemuel Shattuck's family history book published in 1855 (Memorials of the Descendants of William Shattuck) on page 62:

"All the rest of my moveable goods I give to my dear wife, Susanna, for her owne maintenance &
bringing up my younger children ; and also the use of my hous and land which I now dwell upon
with that I bought of Edward Sanderson, til my two younger sons , Benniman & Samuel, arrive to
twenty on years of age . If my sd wife marry, my will is that she receive four pound per year out
of my said house & lands ; if she marry not, I give them to her during her life.
Item.
I give to my sd Benniman & Sanuel my house and land I now dwell upon, with that I
bought of Ed Sanderson, and my half dividend, to them and their heyers forever."



William Shattuck is said to have lived on Common Hill in the years before he died, and that means Edward Sanderson's house was on Common Hill (Lemuel Shattuck didn't know where the house was precisely as most of the Shattuck family had moved away by the time he was around, and without access to the deeds and the index we have now, it would have been hard to locate - but family history said William lived on Common Hill). So there's proof that Edward lived near his brother just being on Common Hill.


William Shattuck was wealthy and already had a nice estate north of what is now Washington Street. So Edward Sanderson's house, barn and meadow and the view of the area from on top of the hill must've been nicer for Shattuck to want to pay as much as he did to live there instead and to give it to his wife in his will.



The property Shattuck had purchased from Edward Sanderson was assessed to be worth 180 pounds. That's a lot of money for a house and small piece of land at that time (not a large farm as others have assumed from the property's value) and property values did not make big jumps. So Edward was not poor as some think and definitely not after that sale.



The question arisen as to the title of some parts of the land may have been the common ones associated with land transferred by deed, as happened when Robert Sanderson took over Richard Linton's land. Or maybe because the property in question was a gift. Or it could be because some of the land may have originally been swamp land and the Selectmen were curious about that. No matter, the deal was approved. Now we just have to locate more records to show exactly where it was.
(Edit: see the update below for 1/18/2014 where I find the deed of the inherited property sold by Richard Norcross and his wife Susanna (Shattuck's widow) to wealthy John Chadwick! The property William Shattuck bought from Edward Sanderson! K.S.)


Robert also did not refer to the Watertown properties as rental properties as he did some of them in Boston. So I'm thinking he had family members living there until they moved away.


Upon the sale of the land to Shattuck, Edward Sanderson seems to have moved to western Watertown (it became Waltham in the 1700s) where he had purchased 12 acres. John Flagg owned land in western Watertown and gave it to his wife in his will from 1696, positioning 12 acres next to Edward Sanderson's property. Waltham historian, genealogist and a founding member of the Waltham Historical Society, Edmund L. Sanderson, who grew up in one of the old Sanderson family homes in Waltham in the late 1800s, believed Edward Sanderson's 12 acres were in the area of the north campus of what is today Brandeis University in Waltham. That would place it about 2 miles or so to the southwest from Jonathan's future residence at Piety Corner.

Caroline Homer Chenery and the Hittinger Brothers owned all the former Sanderson land, plus more, in the late 1800s for their farm, orchards and greenhouses supplying fruit and vegetables to the Boston area.
From the History of Belmont, Middlesex, Mass, by Samuel Adams Drake, published in 1880, the Chenery family bought much of the old William Shattuck land. David Chenery, Caroline's husband, had bought additional land and built a house that their daughters lived in later on the western edge of the property.
Belmont map from 1900 showing the Chenery and Hittinger lands plus the Payson Park Reservoir for landmark reference along with Washington Street and the Fresh Pond.
Here's an earlier Belmont map from 1875. Belmont map from 1889 Land of the Hittinger Bros. Map.



**UPDATE 1/18/2014**


After a late night of going through the Middlesex South deeds now on familysearch.org, I believe I have found the property that Edward Sanderson lived on, next to Robert Sanderson's property, that he sold to William Shattuck in 1664. I found out that Richard Norcross and his wife Susanna (William Shattuck's widow) on May 9, 1681 sold 3 acres of rising meadow land in Watertown near an 11 acre meadow, and (Constable) John Waight's meadow, and near James Cuttler's land, to wealthy John Chadwick who owned a lot of property in Watertown. James Cuttler lived in Cambridge but owned land early on in the north of Watertown and it's on Dr. Bond's map, just northwest of Robert Sanderson's original homestall and the Linton homestall (remember, too, that Bond's property outlines are approximations he felt confident were correct as he could make them based on the written land records). One of the main indicators in the deed, other than meadow rising, is where Richard Norcross and Susanna were called heir administrators, which they were regarding Shattuck's estate of his last home and land (the former Edward Sanderson property) by agreement with the other heirs in1674. It's also the only deed with both Richard and Susanna involved... makes sense as that was the land she was given in Shattuck's will.

Also of note, the 11 acres of meadow near it did not have an owner mentioned. Probably because it looked abandoned - nobody had apparently lived there for many years. Robert Sanderson (though he retained ownership), Edward Sanderson and William Sanderson had moved on. Robert Sanderson left 28 years earlier and Susanna wasn't living there with William Shattuck until 1664, 11 years after Robert had moved to Boston, so she would probably have had no recollection of him being a neighbor. Robert had around 20 acres of land on the west side of then Hill Street when you consider his original lot (6 acres west of Hill Street, now School Street) and the 8 acres of Richard Linton's land and the 6 or so acres of William Godfrey. Then there was his original lot of 4 acres of swamp on the east side of Hill Street that became 4 acres of meadow by the time his son sold the 11 acres of land (the original homestall - 6 + 4, plus an acre) in 1713 for 57 pounds, and the 1 1/12 acres of swamp formerly William Godfrey's on the east side of Hill Street. So right around 25 - 26 acres. Robert had his son split the land in 1/2 with other heirs. So if Robert Jr. sold 11 acres, that means there were 22 acres split from the inheritance and that leaves 3 - 4 acres unaccounted for. There is also a house unaccounted for as Robert owned 3 in Watertown and only 2 were in the will. Once again I'll point out that Robert bought Richard Linton's land and house right before Edward and Mary got married. Historian/genealogist Edmund L. Sanderson of Waltham said many years ago that Robert and Edward lived near each other in the part of Watertown that became Belmont.

I'm thinking Robert gave Mary and Edward the Linton house, barn and 3 acres of meadow as a wedding present. It is possible Edward bought it from him, but the gift of part of the old Linton land may have been what called into question the title (gifting of deeds was common then for family members - Linton gave land to a daughter and son-in law, Deacon Jonathan Sanderson did that for his children). Also, I've found that Richard Linton had a lot of land originally in Watertown, so he was wealthy. His house was probably pretty good for one back then. Maybe his barn was, too. But if the house is where I think it may have been, on top of the hill, near where Payson Park Reservoir is now, that view of the Fresh Pond and the land below to this day is said to be "spectacular." Reading comments from visitors today standing in front of the gate house of the Payson Park Reservoir, on top of the hill near where the Edward Sanderson house probably was, facing east you can see Fresh Pond, Cambridge, and the Boston skyline, though a few more recently built houses now block the view a little. The reservoir is 178 feet above the base of Cambridge to the east. That view could easily justify the money Shattuck spent, why the property was valued at 180 pounds then ($36,000US today), and why he wanted it and would move from the nice place he already enjoyed. Why would Edward Sanderson want to leave it? He probably needed more land for his livestock. He did move to 12 acres in western Watertown of flatter more suitable land for grazing farm animals.

11 acres of meadow together west of Hill Street could be possible if the last estate of William Shattuck, the former Edward Sanderson property, was in the back of the Linton lot (on top of the hill) and combining the 6 acres of Robert Sanderson's original homestall with 5 acres not being used in Linton's homestall, and not counting the 3 acres for the Shattuck estate, you would have 11 acres of meadow. Perhaps William Godfrey's property had a fence that was still up, making that land look separate, and/or a private road was there running along the property line back to the house and barn on the hill. It's pretty easy to imagine that could be correct. The Sanderson/Shattuck property was surrounded by meadows.


Robert Sanderson Jr. deed to Samuel Livermore (the younger one) that shows the property location:
"Massachusetts, Land Records, 1620-1986," images, FamilySearch (https://familysearch.org/pal:/MM9.3.1/TH-1961-36174-2518-65?cc=2106411&wc=M9QJ-L7T:236529699 : accessed 15 Jan 2014), Middlesex > Deeds 1712-1714 vol 16 > image 268 of 679.

You can see what looks like 57 pounds on this page of the deed, the money Sam Livermore paid for the original Robert Sanderson homestall:
"Massachusetts, Land Records, 1620-1986," images, FamilySearch (https://familysearch.org/pal:/MM9.3.1/TH-1961-36174-2280-92?cc=2106411&wc=M9QJ-L7T:236529699 : accessed 15 Jan 2014), Middlesex > Deeds 1712-1714 vol 16 > image 269 of 679.

William Godfrey deed to Robert Sanderson - showing Robert Sanderson still owned Richard Linton land in 1653:
"Massachusetts, Land Records, 1620-1986," images, FamilySearch (https://familysearch.org/pal:/MM9.3.1/TH-1961-36172-8487-85?cc=2106411&wc=M9QJ-LQR:1366736303 : accessed 15 Jan 2014), Middlesex > Deeds 1649-1670 vol 1-3 > image 107 of 645.

Richard Norcross and his wife Susanna's (the widow of William Shattuck Sr.) deed to John Chadwick:
"Massachusetts, Land Records, 1620-1986," images, FamilySearch (https://familysearch.org/pal:/MM9.3.1/TH-1961-36171-6935-62?cc=2106411&wc=M9QJ-L7W:n603869272 : accessed 18 Jan 2014), Middlesex > Deeds 1678-1684 vol 7-8 > image 340 of 682.

A visitor's shot of the view from Payson Park Reservoir with Fresh Pond, Cambridge and Boston in the distance. Imagine what this view was like when there were not a bunch of houses, trees and electric and telephone lines in the way and it was all meadow. From FourSquare.com: picture by Susan B. of Waltham, MA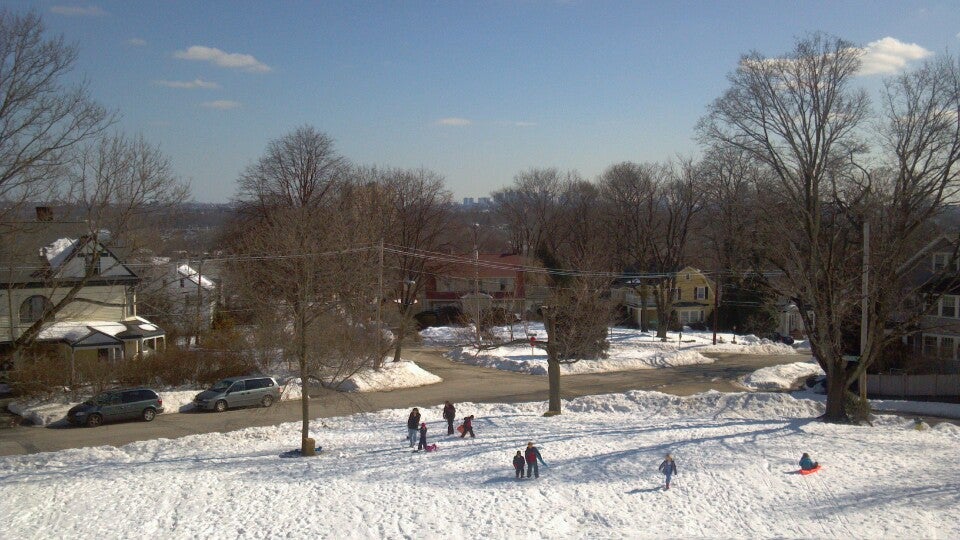 Deacon Jonathan Sanderson
Jonathan Sanderson was fairly well off as we will find reading his will. This doesn't even address the land he owned as he handed that off to his sons Jonathan and John (my ancestor) to handle, probably by deed, as most of the land was purchased for family members in the first place. It's also another indication that Edward Sanderson was not poor. I think Edward helped him out and Robert may have had a hand in it as well early on and is probably why Jonathan wasn't in Robert's will - he didn't need money (note all the silver money mentioned in Jonathan's will below). I have no hard proof yet, but there's an old Sanderson family story saying Edward helped Jonathan acquire the land and it's been related elsewhere including a book by Diana Muir, Reflections in Bullough's Pond: Economy and Ecosystem in New England. Also, Jonathan acquired most of his 160 acres from 1681 through 1695. Edmund L. Sanderson figured Edward Sanderson died around 1694/95 (maybe a guess basing it on Robert's will and how long people lived then), and the will of John Flagg citing Edward's property location in western Watertown next to his land could place Edward's death to around 1696 or a bit later as terms were not used indicating he was dead. So Edward not being active to help Jonathan acquire land past 1695 could be one reason Jonathan stopped buying land along with Jonathan's new involvement in Watertown as constable.

Deacon Jonathan Sanderson's grave in Waltham on Find-A-Grave

Abiah Bartlett Sanderson's grave in Waltham on Find-A-Grave

His will found on Randy Seaver's website http://www.geneamusings.com/2011/09/amanuensis-monday-will-of-jonathan.html

"The probate records for Jonathan Sanderson of Waltham are in Middlesex County Probate Packet 19,801 (original papers, accessed on FHL Microfilm 0,421,512). His will reads:

"In the name of God Amen. The Second Day of Aprill Anno Domini one Thousand Seven Hundred and Twenty Eight.


"I Jonathan Sanderson Senr of Watertown in the County of Middx in New England yeo: Being ligod and deeply Expecting my Change, But of perfect mind and Memory, Thanks be given unto God Therefore Calling to minde the Mortallity of my Body, And knowing that it is Appointed for men once to dye, Do make and ordaine this my last Will and Testament (That is to Say) Principally and first of all, I Give and Recommend my Soule into the hands of God that gave it, Hoping that throw the Merrit and Sattisfaction of my Savior Jesus Christ to have full and pure pardon of all my sins and to Inherit Eternal Life: And my Body I Commit to the Earth to be Decently buried at the Discretion of my Executors hereafter named Nothing doubting But at the Generall Resurrection I shall Receive the same agen... by the mighty power of God. And as touching such Worldly ... wherewith it hath pleased God to bless me in this life, I Give Devise and dispose of the same in the following manor and forme vizt:


"First I Will that all those Debts and duties that I do owe in Right or Continue to any manor of person or person, whatsoever shall be well and truly Contented & paid or ordained to be paid in Convenient Time after my decease by my Executors hereafter named.


"2 Item. I Give unto my son Thomas Sanderson Thirty pounds in good Bills of Creddet or Lawfull Silver money, To be paid by my Executors within Two years next after my decease, Which Sum together with what I have gave for him otherwayes to his full share out of my Estate.


"3 Item. I Give unto my Son Samuel Sanderson Thirty pounds in good Bills of Creddet or Lawfull Silver money to be paid by my Executors within Two years next after my Decease, Which Sum Together with what I have allready Bestowed on him is all I designs him out of my Estate.


"4 Item I Give unto my Son Edward Sanderson Thirty pounds in good Bills of Creddit or Lawfull Silver money to be paid by my Executors Within two years next after my decease, Which sum Together with what I have done for him before this Time, is all his portion out of my Estate.


"5 Item. I give unto my Daughter Abia Sanderson all my Household Stuff within Doors, and all my Stock of Cattle and Horse, Sheep and barne and house, and all my Husbandry Utencills, and all my hay Stows and Corne; and if my sd Daughter Abia long to stand in need of more than I have given Her, for her Comfortable Support, then my Will is that my Executors Shall pay her ten pounds more, Which they Shall Reserve out of my Estate for that purpose, and if it shall so happen that she leaves any Estate at her death, then my will is that her sister Hannah Sternes shall have a double share thereof, and all her own Brothers to have Singel shares of the same.


"6 Item. I give unto my Daughter Hannah Stearns and to her heirs and assigns for Ever, That part of a dividend lott Which I bought of Sarah Hager Called Coolledges Dividend, Which with what I gave her at Marriage is her full Portion.


"7 Item. I Give unto my Son Jonathan Sanderson Sixty pounds in good Bills of Creddit or Lawfull Silver money.


"8 Item. I give unto my Son John Sanderson Thirty pounds in good Bills of Creddit or Lawfull silver money to be Rec'd by them within two years next after my decease, Likewise I give to my sd Son John Sanderson all my Weareing Apperral.


"9 Item. That Whatsoever Estate I Leave at my decease after my Funerall Charges, Debts and Legacies are paid and Satisfied as before mentioned, then my Will is that sd Estate left or atime sd if any there be, shall be Disposed of in the following manor and forme Vizt That my son Jonathan Sanderson shall have a double share thereof and each of my other Naturall Children shall have a Single Share of the same.


"10 Furthermore If It Shall so happen that I do not Sell and Allienate my Reall Estate Vizt. Houseing and Lands, before my Decease, That then my Will is that my Two Sons Jonathan Sanderson and John Sanderson Shall Sell and dispose of the same and the Effects thereof to be improved as before directed and prescribe, and I do hereby Give and grant unto my sd Two Sons full power and authority to give and Pass good and Lawfull Deed or Deeds of Sale of my sd Reall Estate, Which two sons of mine Vizt. Jonathan Sanderson and John Sanderson I Do likewise Constitute make and ordaine my Executors of this my Last Will and Testament. And I Do utterly disalow Revoke & Disannull all and Every other former Wills, Testaments and Legacies, Bequests and Executors, by me in my Life before this time named, willed and bequeathed, Ratifying this and no other to be my last Will and Testament. In Witness Whereof I have hereunto sett my hand & seale this day and yeare first above written."


"Signed Sealed Published pronounced
and declared by the said ............................................... his
Jonathan Sanderson to be .............................. Jonathan S Sanderson Sen
his Last Will & Testament ....................................... mark
in the Prsents of us the
Subscribers Vizt.
Thomas Livermore
Abiah Sanderson
John Coolledg"


Randy Seaver also included:
"The probate packet also included a lengthy inventory of Deacon Jonathan Sanderson Senior of Watertown deceased, taken 30 September 1735 by Allen Flagg, Thomas Livermore and Samuel Livermore. There was no real estate listed. The personal estate totalled 209 pounds, 15 shillings and 8 pence. It was exhibited to the Court on 3 September 1735.

The account of John Sanderson of Leicester was presented to the Court on 4 June 1739. He charged himself with all the goods and chattels. He noted that the funeral charges were paid and satisfied with 32 pounds money left for that purpose, which was not included in the inventory. He paid the outstanding debts of Jonathan Sanderson to Jonathan Bond, Samuel Livermore, Samuel Sanderson, Allen Flag, Joseph Priest, Jonathan Sanderson, Abia Sanderson and several others. He then paid the legacies bequeathed in the will - 60 pounds to Deacon Jonathan Sanderson, 30 pounds to Thomas Sanderson, John Sanderson, Edward Sanderson and Samuel Sanderson. He also paid an additional 10 pounds to Jonathan Sanderson and an additional 5 pounds to the other sons. He also delivered to the attorneys of Abia Sanderson all the stock of costumes, goods and moveables both within and without that was bequeathed to her, amounting to the sum of 134 pounds, 7 shillings, 1 pence (which was not included in the inventory). He requested 13 pounds as his allowance for his trouble, journeys, time and expenses. The account was accepted by the Court."


Edward Sanderson versus Edward Sanders
There were and are many more Sanders in the world than Sandersons. Even in Northamptonshire, where I believe the brothers are from, there are many Sanders, in an area where Sandersons had lived for hundreds of years and were well known members of the communities. Sanders was more common in the south of England while Sanderson was more common in the north.
Some people think a Robert Sanders in Cambridge, Massachusetts was Robert Sanderson. Nope. There was a documented Robert Sanders in Cambridge who is a completely different person than silversmith Robert Sanderson, who lived in different areas of the Colony, including Boston, but Robert Sanders did not die in Boston, and was poor when he passed. Robert Sanderson did die in Boston a wealthy man. There are several people named John Sanders/Saunders who came over to the Colony about the same time and lived in different locations that drive genealogists batty.
Likewise, there are a few Edward Sanders. There was one man in Saco, Maine who got in trouble for not keeping up with his obligations along with several other men, noted in the York County records as Edward Sanders in 1664. So people in the past go - oh, that must be Edward Sanderson. Nope. They were two different men who were pledged to two different towns 100 miles apart. And Edward Sanderson was selling his house, barn and meadow in Watertown to William Shattuck in 1664 before moving to a 12 acre lot in western Watertown. There's also an Edward Sanders in New Hampshire who got in trouble with Mrs. Sarah Lynne and was taken to court for saying he was married to her, within a week of our Edward Sanderson marrying Mary Eggleston. So that doesn't work at all time wise/place wise (something some researchers just often plain ignore).
A poor man named Edward Sanders, who had several children, was also featured in a case study in Dr. Roger Thompson's book about life in Watertown, Divided We Stand, because he was poor and a convicted rapist who was not hanged. Some people believe, because of the Sanders/Sanderson confusion that he's the same man as our Edward Sanderson. It didn't help that a town clerk had written that Edward Sanderson was indigent and needed two young daughters apprenticed out in 1671 (Dr. Thompson went with it being Edward Sanders, not Edward Sanderson). The idea that Edward Sanderson had young children then didn't make sense as there's no official record of Edward and Mary having anyone but Jonathan - all the other children people tried to tie to them had the last name of Sanders or Saunders and were not in the town records. That confusion Dr. Bond started with his speculation about the additional children has gone on for many years and even confused Sanderson family researchers. Edward and Mary were much older than most parents in Watertown and Mary would've been in her fifties at the time those girls were born. Those children were found by researchers in church records. Edward Sanders, the rapist, became a reformed churchgoer after escaping hanging according to Thompson, and it would make sense his children would be recorded there. I have not yet found church records for Edward and Mary and young Jonathan years before he became a Deacon.
Earlier in the town records poor Edward Sanders was stated to have 6 children in 1661 in need of help. If this had been Robert Sanderson's brother, the Selectmen would have made Robert Sanderson help as they always made family help instead of doling out valuable town resources, as stated in Thompson's book. They knew Robert and knew he had money running the mint. And the Edward Sanders needing help from the town in 1664 would not be needing help from the town if he was Edward Sanderson as he was doing well from selling his property to wealthy businessman William Shattuck (and probably well off before that). The poor Edward Sanders would not have been able to obtain 12 acres in western Watertown in 1664.
Amateur genealogist Jeanie Robert's blog, where I first found this story about the rapist Edward Sanders, completely ignored (before I posted critical comments) that Dr. Thompson never once stated the name of our Edward Sanderson in his book (which would be quite odd if it was our Edward since the book is thoroughly researched and referenced by a respected professor so he would mention it). She has since stated that he doesn't mention Edward Sanderson at all in a recent post, but not the original and made it seem Edward Sanderson and Edward Sanders are one and the same, though they are not. She completely thought Sanders equals Sanderson all the time, and it doesn't, even though she pointed out another Edward Sanders who has been confused with Edward Sanderson. She also believed Robert and Edward were not brothers even with the facts pointing to them being brothers (ignoring Robert's will, a gold standard of proof to genealogists), but instead believing people with no dog in the fight, and not caring enough to dig further, saying there's no proof they were brothers. I don't know if she has changed her mind since I posted Robert's handwritten will. She has since taken down the pages she had up on Edward Sanderson, Robert Sanderson and William Sanderson (her ancestor) and has stated she is redoing her pages with more references to prove her research.

I think the confusion with Edward Sanders may throw some researchers off, especially when a town clerk said Edward Sanderson was poor and in trouble in 1671 - how could that be Robert's brother, they must have thought, he would have helped - and the early death dates that may belong to Edward Sanders but others assume are Edward Sanderson's death dates. Others probably just quote Bond without a critical look.

Dr. Thompson was directly quoting General Court documents about an Edward Sanders, who two separate times raped 9 year old Ruth Parsons in 1654, for a total of 5 acts. He confessed to the rapes and was convicted and punished but was spared hanging due to a technicality in the law. The book gives a graphic description of the rapes taken from Ruth Parsons' testimony. The first incident of 4 acts of rape in Edward Sanders' house and lean-to, and the second incident, the 5th act, in her father's house. I believe the Court records for a serious crime would get the name correct.

To her credit, Jeanie let my comments stay up on her blog to dispute what she believes and posted one of my comments so all could better see my developing theories and proof. Jeanie Roberts also has stated that she thinks it is possible there could be two different men, and had a comment up that she had e-mailed Dr. Roger Thompson and he responded saying he thought they were two separate people based on comments he read from editors of a printed edition of the Watertown Vital Records. In his book he wrote Edward Sanders was the poor man and the rapist who had several children, including a trouble maker son named William, and had the two young girls who were apprenticed out to others in 1671. Jonathan is not even mentioned as a son of Edward Sanders in the book, because of course he wasn't! Jeanie made a big deal about Thompson not finding any relation between Edward Sanders and his son William with Robert Sanderson. Well of course, they couldn't be related because they are not Sanderson family members - they are Sanders! But she makes the jump to say because of that Edward Sanderson and Robert Sanderson aren't brothers, sticking to her belief that Edward Sanders means Edward Sanderson. I shake my head. (I'm hoping with her blog rewrite project, she has changed her mind.)
Dr. Thompson could not make out where the first incident took place... the handwriting of the location was illegible in the handwritten court records. But because he could make out that it happened on a Common, and because poor people lived near Meeting House Common (Edward Sanders and Hugh Parsons, Ruth's father, were poor) and at that point of my research I thought Pequusset/King's Common was just grazing land (I didn't know yet that it had been divided up), I thought perhaps the court clerk had used an abbreviation for Meeting House Common that Thompson couldn't make out.

We know that Edward Sanders, the rapist, who was poor and had several children, lived on a Common from the undisputed testimony given by Ruth Parsons, from her saying he put two or three children out to the Common when he took her into the house before taking her to his lean-to where the first rape incident occurred involving 4 acts. The question I had was - which Common?

I have learned since my first theory that the Selectmen started dividing up the Common used for cattle grazing into closer together small lots for the newcomers in the late 1640s. That was Pequusset Common also known as King's Common. Hugh Parsons, Ruth's father, was granted 1 1/2 to 2 acres on Pequusset Common in 1649. (Watertown Records, Bond, Thompson) Ruth inherited that property along with more for a total of 4 acres that she exchanged later in life with Henry Goding for a place to stay and for care since she was infirm (Maine Genealogies of Families/Watertown Records). That land was on the northeast end of Pequusset Common bordered on one side by the land of J. Wetherill, which was south of the Clay Pit. Since Edward Sanders had snatched her the first time and took her to his house and then his lean-to to rape her and the second incident for the 5th act in Hugh Parsons' house (in the chimney nook), he had to be a close by neighbor. There was no testimony of abduction to a farther away location. The Sanderson brothers lived on Common Hill, over a half mile away, a longer distance away in those days when you had to walk or ride a horse, and people would've seen and heard the commotion of Ruth struggling with him if that was the case. That would've been in the Court records if it happened but it didn't. And Edward Sanderson had a house, barn and large meadow - no need to put any children out to a Common, and besides he wasn't close to one!!! So poor Edward Sanders, the rapist, and father of several children, lived on Pequusset Common, aka King's Common, probably next door or close enough to the Parsons to easily get at little Ruth those two separate times.

There was also an earlier researcher, Charles Henry Pope, who had mentioned a criminal Edward Sanders (again, some people before thought he was Edward Sanderson though Pope did not - Edward Sanderson was listed separately in his book); From Charles Henry Pope's Pioneers of Massachusetts:

SANDERS, SAUNDERS, SANDEN, SANDIN, SANDYN, (A list of Sanders with details followed. K.S.)
>>

EDWARD, Watertown, sick at Piscataqua when called to appear
before Gen. Court at Boston. 5 (1) 1638-9. Punished 19 Oct. 1654, (date of Ruth Parsons rape conviction. K.S.)
Edward, Scituate, served against the Narragansetts in 1645, may
be the same.<<
Obviously, there was a criminal named Edward Sanders who had gotten in trouble with the General Court in 1638/1639, and again with the rapes of young Ruth Parsons in June of 1654, and was convicted and punished by two public whippings in October of 1654 for the rapes.

If Edward Sanders had been Deacon Robert Sanderson's brother, there would've been a bigger story about the incident. Edward Sanderson was Deacon Sanderson's brother, so there was no bigger story because he was not involved.
Edward Sanderson and Mary, lived on Common Hill with only one recorded child, and sold his home, barn and meadow to the wealthy William Shattuck, Sr. Edward Sanderson was decidedly more well off than poor rapist Edward Sanders who only had a small lot with a house and lean-to, but no reported barn or meadow, or even a yard to speak of to put little children out to except the Common next to his house - Pequusset Common! William Shattuck, Sr. would not have paid what he did for Edward Sanderson's property if it had been poor rapist Edward Sanders' property. Sanders' property, which was probably rented, would not have been valued at 180 pounds, or else the Parsons and all the other people living in the same neighborhood with smaller lots would not have been poor and would have had higher property values. I don't understand why some people can't figure this out. It is so obvious!

And some people believe that a Goody Sanders (Goody for Goodwife - what widows were often called then) was Edward Sanderson's wife Mary thanks again to Bond. I'm not the only person that has problems with some of the things he concluded in his research. I'm happy he gathered the information together as it is often good, but he should have been more careful and thought some things through more clearly. After all, Lemuel Shattuck shared the will of William Shattuck mentioning Edward Sanderson's home, yet Bond ignored that. He could've easily placed the location on Common Hill showing more proof that Robert and Edward were brothers. And apparently Robert's will was available to Judge Savage because he quoted it and knew they were brothers, but obviously Bond didn't check it. A lot of the nonsense about Robert and Edward not being brothers would have ended then and there if Bond hadn't stated he couldn't find an affinity for them. The Flagg family descendants say Bond missed and combined people in their line. But back to Goody Sanders. She needed help from the town and got it in the 1680s. If she had been Jonathan's mother, the Selectmen would've had him help her as he was already buying land in Watertown in 1681. He had money and the Selectmen always went to relatives to help instead of giving away town resources. So I'm thinking the early death dates for Edward Sanderson are probably poor Edward Sanders' (Goody Sanders was more likely his widow) and people got the two confused again. Edward Sanderson had to be still alive to be in Robert Sanderson's will in 1693 and to be mentioned in John Flagg's will with 12 acres of land in western Watertown in 1696.

The problems have always been stemming from errors by the town clerks and assumptions from researchers like Dr. Bond, Patricia Monaghan, and others, not doing a thorough research job and ignoring the possibility of a another actual person named Edward Sanders in Watertown at the time who they were confusing with our Edward Sanderson, and not digging deep enough to find more information.

Edward Sanderson and the poor criminal Edward Sanders are definitely two entirely different people.

Northamptonshire Research
A possible sister named Susanna? That could be a big clue!

In the information someone provided to Rev. H. I. Longden to help him find Robert and Edward's parents, they included "perhaps a sister" named Susanna born about 1620, that Longden wrote down along with Robert and Edward's information in notes on the bottom of the first scratch pedigree he did trying to solve which family they belonged to, plugging their names into where they might fit (the information seems to be from someone in the Sanderson line - perhaps Robert's - in the United States, who knew Robert was born about 1608, Robert and Lydia married in England in 1636, had a child there named Lydia in 1637, and arrived in 1638 (no bad 1635 Increase info there) where they had Mary in 1639, Lydia's death about 1641 and then Robert's marriage to the widow Mary Cross in 1642 and their children, but they or Longden omitted Elizabeth, Robert's third wife. They also included Edward and Mary's marriage and only one child, Jonathan). Edward Saundersonne had a daughter named Susan baptized in 1612, Edward's (and Robert's) younger sister. The next child in line was Elizabeth baptized in 1615. So Robert, Edward and Susan would have been closer elder siblings to their younger brothers and sisters. It's not hard to imagine they stayed in touch with Susan, as much as one could back then, if they were close, or the brothers reminisced about her. I can imagine that many people who had left family behind in England would talk about them for something to do, or in answer to children's questions. And someone in a Sanderson family must have written the name down somewhere. Susan/Susanna (both names were interchangeable then) was the only Sanderson/Saunderson/Saundersonne girl with that name in the records of Higham Ferrers for that time period.
I don't believe whoever submitted the request to Longden for the pedigree had included that Robert had said he was the son of Saundersonne, or it would've been easier for Longden to figure out, especially with the Susanna clue (Robert used Sanderson for himself when he registered at the Guild, but had them spell his father's name with the rare spelling, so that makes it even more of an indicator of who his father was out of all of the Saunderson dads in Higham Ferrers - he was the only one who used that rare spelling of the name). I'm sure Longden would have included Saundersonne in his written notes if he had been told. So Longden tried plugging them into all the Sanderson families from that time that had children where there were years open. Eventually, in a later pedigree (as evidenced by the shakier handwriting of an older person), he resorted the family members (he had to thanks to a couple of different Robert Saunderson families at the time) and had almost boiled it down to two families. Robert Saunderson, who died in 1620 and Edward Saundersonne.

Longden used Sanderson instead of the older family spelling of Saunderson and Saundersonne for his client in the United States, but we know it's Edward Saundersonne as the children were his in the Rushden Records (changing to Saunderson after a few years). In the first pedigree, Longden had Robert and Edward as Robert Sanderson's and Mary Thorpe's possible children in one possible combination (the Robert he had chosen was actually married to Anne). But he changed up the order in the second pedigree. I still think he had more sorting to do as it appears he combined two Robert Sanderson families, the elder (married to Anne in 1592) with a younger Robert Sanderson in nearby Wadenhoe (Mary Thorpe's husband) who was a witness on a few wills. He tried to get the children to fit in one family because the span of years involved in the birth of the children, but I know from records I found on another site that Anne was listed as Robert Sanderson's (the one who died in 1620) widow when she passed in 1635. The one benefit of Longden not knowing about Robert saying he was the son of Saundersonne is that we now have the other families' information!
Why do I trust Rev. Longden's judgment on the spelling of Edward over Rushden Research's and the Northamptonshire Records Office preference of Edmond (sending a printout based on what volunteers had written down from their look at the parish registers that says Edmond - but not the NRO's actual look at the handwritten records with my purchase of copies of the records). As I said before, Rev. Longden had been the person who gathered together all the records and wills of Northamptonshire. He had worked on many pedigrees and looked over many of the wills from that time so he was more familiar than someone of today, no matter how good and dedicated they are, at trying to make out the horrible cursive handwriting of the time (Edward could look like Edmond and vice versa but he had probably seen it enough times to make it out. After looking at the deeds from Watertown and the copy of the Robert Sanderson of Higham Ferrers will from 1620, it's easy to see how hard it is to make anything out!) Jeanie Roberts has told me that Kay Collins of Rushden Research insists she personally double and triple checked the spelling of the names they recorded. That indicates to me that there was a question of which spelling was actually there. Longden was also held in high esteem in his time. If you're looking for someone with good references to do this research, he had them. And we are also talking about a long line of children named Edward and Robert because of their forefathers going back to the 1400s.

His second of two pedigrees of the Sanderson family we are concerned with had a note saying the information was from the Higham Ferrers registers and two wills, so he obviously had checked the records and probably did a second time as he changed the spelling of names and had found some missing dates and children compared to the first version he had done years earlier. He listed more wills on the first scratch pedigree he had done. But both versions had Edward and thanks to pages missing from the parish registers covering about 4 years, his guess at a possible birth year of Robert and the marriage of their father. It's possible that they are one of the two different Robert Sanderson's children, but they would've been younger children if they were at all. I couldn't make them out in Robert Sanderson's will from 1620. And the silversmith Robert, to me, acted like an eldest son. If they were the elder Robert's kids, William Sanderson would have been Edward and Robert's nephew if he was the son of John who was the elder Robert's son.

Because of the almost 4 year gap in the register from the two missing pages, from after early 1607 to early 1611, Edward Saundersonne could have been married in 1607 and he and his wife (unknown for now) could have had Robert in 1608.

So, because of the rare spelling Edward Saundersonne used of the family name, him being the only family member with children using that spelling in Higham Ferrers, and Robert saying he was the son of Saundersonne of Higham, the possibility of Robert being born in 1608, or even 1609 as Longden thought may have been possible - he did have the more correct 1608 in his notes and one of his earlier tries, (though 1609 may be pushing it, I have seen a 1610 birth date for Robert in an old book about silversmiths, but I believe it's 1608 as it works better counting back from Robert's apprenticeship), Edward being born in 1611, and especially now with the info about a possible sister named Susanna and Edward Saundersonne having a daughter named Susan, the only one for years in Northamptonshire, it looks to me that Edward Saundersonne of Higham Ferrers was their father.
Sanderson/Saunderson family members in England all go back to Alexander de Bedick anyway, but this information takes our line back in Northamptonshire to about 1455 to the birth of a man named just Sanderson in the records. I'll post more soon. It's not locked down completely as there are obviously issues with the two different Robert Sanderson families in Northamptonshire and there will always be questions about the two missing pages of records, including who Edward Saundersonne's wife was, Edward and Robert's mother,

I'd love to put up the images of the Longden pedigrees I purchased from the NRO, but they have a prohibition against publishing or sharing the images they copied and sent which I had to agree to. They are also very large images (they had to break the first pedigree into two separate scans) and would kill my website bandwidth, even if I reduced them to something hard to read. But you can order them from the NRO if you can pay in British Pound Sterling by check (you need to find a bank that has a branch in England) or run up a bill of around at least 50 pounds for them to open an account where you can then use a credit card (which is what I did).

Page under construction - more to come - updated April 7, 2014
Home - Voice Over Talent - Kevin Sanderson - Voice Overs

Copyright ©1996-2014 Kevin M. Sanderson All rights reserved.